Events Calendar
Science Saturday
The first Saturday of the month, September-November and February-May. Drop in, 10:00 AM–2:00 PM.
Join us at Science Saturday for a hands-on learning activities for kids and families. Each session explores a new topic! 
November 4

February 3

March 3
April 7
May 5
Navy Band Northwest Concerts
Don't miss the chance to hear Navy Band Northwest at the museum! Upcoming concerts are:
October 15 at 2:00 PM: Woodwind Trio and Clarinet Trio 
November 19 at 2:00 PM: Funk Brass Band
December 17 at 2:00 PM: Holiday Classics with the Woodwinds
The Taking of K-129: Author Talk & Discussion with Operation Engineers: October 28 at 11:00 AM
Author Josh Dean will discuss his book about Project AZORIAN, a highly secret six-year effort to retrieve a sunken Soviet submarine from the Pacific Ocean floor during the Cold War.
The views below are those of the publisher and do not represent the policy or position of the U.S. Navy or museum.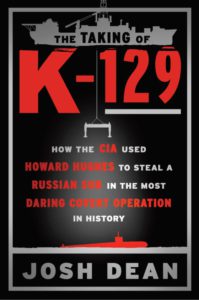 A missing Soviet submarine. Elaborate covert operations. An eccentric billionaire industrialist. A $300 million-dollar recovery ship. High stakes espionage. Over four decades ago, the CIA launched an incredible plan to steal a Russian submarine carrying nuclear missiles and codes from the bottom of the ocean under the watchful eye of the Soviets. But how?
In what sounds like the makings of a fantastic Argo-style blockbuster movie or spy thriller, this unbelievable plot is actually the real-life story of the largest and most audacious covert operation in CIA history—a story that has never been fully told, until now, in "THE TAKING OF K-129: How the CIA Used Howard Hughes to Steal a Russian Sub in the Most Daring Covert Operation in History" by journalist Josh Dean.
A correspondent for Outside and a regular contributor to many national magazines, Dean conducted dozens of first-person interviews with Project AZORIAN's surviving engineers and contractors, as well as three of the operation's major players.
On October 28, 2017, at 11am in the museum auditorium, you can hear from the author and Project AZORIAN veterans, too. Following the lecture and discussion, buy a copy of the book from the museum store and have it autographed!
Auditorium doors will open at 10:30 AM. Seating is first come first served. Book signing will be held in the museum lobby.