Welcome to the U.S. Naval Undersea Museum!
If you're interested in learning more about the Navy's undersea operations, technology, combat, research, and salvage, you've come to the right place! Come for a visit or take a look around our website to see how exceptional people and cutting edge technology create an incredibly capable undersea force.
Join us Friday, August 25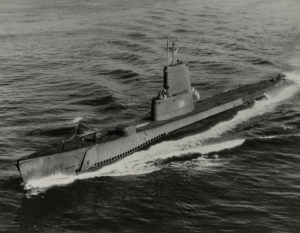 Deep Sea Dive on USS Bugara: Join us at the museum on Friday, August 25, 2017, from 9am – 11am as we partner with the National Oceanic and Atmospheric Administration (NOAA) and Dr. Robert Ballard's Ocean Exploration Trust to present a live stream of a deep sea exploration of the wreckage of WWII diesel submarine USS Bugara! The Bugara wreckage is located in about 800 feet of water just off the coast of Washington and will be explored via a remotely-operated vehicle (ROV) from the surface exploration vessel (E/V) Nautilus.
Staff from the museum and NOAA will kick off the presentation with opening remarks before we begin the live stream investigation of Bugara's wreckage on the auditorium's big screen at 9:30am. Please join us for this exciting event!
Marine Mammals: The Navy's Super Searchers
A new exhibit opening September 29
From finding mines to detecting intruders, Navy dolphins and sea lions carry out missions all over the world. The naturally skilled animals detect objects underwater better than human divers and human-made technology. Learn how marine mammals help protect Sailors, ships and bases in our new exhibit Marine Mammals: The Navy's Super Searchers, when it opens on Friday, September 29!